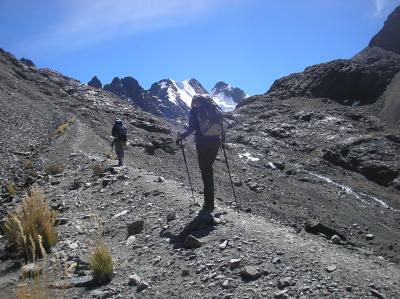 Condoriri -Maria Llocko -Huayna Potosí.
5 Days / 4 nights
Observe beautiful scenery along our trek, visiting Jurikhota Lake in the Condoriri National Park, with the added advantage of having llamas or mules that will carry our baggage. Could be your first over 6.000 meters in Huayna Potosí.
From the Top of Huayna Potosí, you have Magnificent views of the snowy mountains of the Cordillera Real and Lake Titicaca.
Exceptional condor shaped "Tuni Condoriri" Mountain.

Isolated landscape with spotless lakes and Andean fauna like the gulls, ibis, Andean Geese and wild ducks.

3 passes over 5000m/16300ft.

Spectacular close-up views of glaciated peaks.

including wilderness camping at Chiarkota glaciar lake.

We supply you with everything required for a top of the line adventure.
The Condoriri National Park displays a great natural potential. Beautifully preserved, it is tucked away in the mountains dotted with crystal clear mountain lakes, a product of the constant thawing of the glaciers. Observe stunning ice stalactites forming their unique shapes down cascading waterfalls.

As you ascend the mountain chains around La Paz, the Andean landscape appears to become even more brilliant due to the presence of numerous lakes of various colors. In its frigid waters live trout of great sizes that can easily be fished with simple equipment.

This trek is really interesting because it ascends completely solitary mountains; the complete silence of the mountains is only disturbed when passing llamas break up the ice underneath their hooves, creating small trickles that eventually wind their way down to Lake Titicaca. From these altitudes you can observe the silvery shimmer of light reflected by the world's highest navigable lake, while trekking in the company of numerous llamas, the occasional alpaca (they are shy) and many smaller animals such as viscachas, lizards, ibises and gulls.

PROGRAM

Day 1 Along the Altiplano and the Andean lakes
In order to arrive to the Andes, we must first travel along the Altiplano. It takes about 2 hours by car from La Paz. The trek starts at 4.300 mts. where we will trek progressively to an altitude of 4.600mts until we reach our first camp in Chiarkota lake. B.L.D 5 hours trek.
Day 2.- Chiarkota lake – Maria Llocko
Today we will reach the first pass of 5000 mts. We will observe the Condoriri glacier and the Pico Austria Summit. After this magnificent view, we will descend to the shores of Chiara-Khota lake. 6 hours trek B.L.D. 6 hours trek.

Day 3 Maria Llocko – Huayna Potosí base camp
Today we will be able to observe the west side of Huayna Potosi Mt (6088m) from the second 5000 meters pass, and we will arrive to our camp side Maria Llocko. B.L.D Six hours trek.
Day 4.- To Huayna Potosí high camp
From María Llocko another pass of 5000 metres will approach to the east side of the Huayna Potosí mountain. After lunch a trekking to the high camp at 5200 will be the end this Andes Trekking.B.L.D 5 hours trek

Day 5.- Huayna Potosí summit – La Paz
After breakfast 01:00, we will start to head up to the glacier, heading for the east face and ascent the Pala, then we continue all the way up until we arrive to the summit of the Huayna Potosi Mt. (6080 meters), about six hours of ascent. Once we get to the top we'll be able to enjoy breathtaking vistas of the Andes Mountains. Descent to "Campo Alto", and then to the base camp where our vehicles are waiting to drive us back to La Paz.B.L
INCLUDES:
Private 4wd. Transport

Meals.

Camping & Climbing gear.

English speaking guide for the trekking.

A proffessional climbing guide ( Basic English speaking)

Entrance fee to the national park

Mules or llamas to carry our equipment.
Prices:
| | |
| --- | --- |
| Pax | $us /Pax |
| 2 | 500 |
| 3 | 425 |
| 4 | 400 |
| 5 | 374 |
| 6 | 340 |
| 7 up | 300 |
Koa Travel
Treks & Expeditions
Calle Colombia 172
Edif. El Contador Piso 2 –of.202
Phone number: 591-2-2146014
Operation Emergency number
591—73262574
Web address:
Electronic Adress:
Twitter
Blog:
http://koatravelnews.blogia.com/
http: //www.turismo20.com/profile/FreddyCespedes
http://es-es.facebook.com/pages/Koa-Travel-Treks-Expeditions/137278516351361?sk=wall&filter=12
La Paz- Bolivia